Lead Generation is the action or process of identifying and cultivating potential customers for a business's products or services.
Lead generation is the initiation of consumer interest or inquiry into products or services of a business. You work with your sales team to identify strategies that have the greatest chance of a lead generation.
Leads can be created for purposes such as list building, e-newsletter list acquisition or for sales leads. It is the process of finding people i.e. leads who're likely to become your customers immediately or in the future.
Lead Qualification

 
Business leads are often grouped into segments to the level of qualification present within an organization.
Marketing Qualified Leads are leads that have typically come through Inbound channels, such as web search or content marketing, and have expressed interest in a company's product or service. These leads have yet to interact with sales teams.
Sales Qualified Leads are leads screened by salespeople, often times Sales/Business Development Representatives or Pre-Sales Teams, for appropriate qualifying criteria to be followed-up with.
Qualifying Criteria include need, budget, capacity, time-frame, interest, or authority to purchase.
Channels Of Lead Generation
There are two channels of lead generation: inbound and outbound. Both channels are obviously aimed at generating leads for your business.
Inbound Lead Generation
The inbound method attracts leads using online content.
You create a website, or you write a blog, and you optimize it for online search through SEO techniques. This means the content has the appropriate keywords and answers the questions of your target audience.
When your content is easily discoverable and begins to engage your readers, they become your leads. In inbound lead generation, you educate your target audience through a carefully planned content strategy. This takes time but involves very little budget spend. Two keywords here: content and SEO and the domain is largely digital.
Lead generation falls within the second stage of the inbound marketing methodology. It occurs after you have attracted an audience and are ready to convert those visitors into leads for your sales team. Generating leads is a fundamental point in an individual's journey to becoming a delighted customer.
Outbound Lead Generation
The outbound method involves a proactive attempt to reach out to your audience.
This usually begins with purchasing lead lists. You then contact these leads by calling them directly (cold calling) or sending them physical mails (direct mail). The emphasis here is on the budget, media connections, and how much marketing muscle you can flex.
ToFu: Leads at the top of the funnel need awareness. They know nothing about what you offer and what domain you operate in, so you will need to create a conversation around both these focus points—without selling your product up front.
MoFu: Leads in the middle of the funnel need nudging. They're not completely clueless about what you do, but they're not ready to buy either. They have many questions about your business, and they're also starting to compare you with the competition.
BoFu: Leads at the bottom of the funnel need your product/service. They're past the education stage, they know exactly what you can give them, and now you are making a clear pitch. This is the right time to offer a trial, demo, or a discount and bring them into your business. The leads that get to this stage are way fewer than those who step into the funnel, so you need to ensure that you offer maximum value here.

Lead Management
Lead generation is often paired with lead management which is to move leads through the purchase funnel.
A lead is usually allotted to an individual to follow up on. Once the individual i.e. the salesperson reviews and qualifies it to have the potential business, the lead gets converted to an opportunity for a business.
The opportunity then has to undergo multiple sales stages before the deal is won.
A lead usually is the contact information and in some cases, demographic information of a customer who is interested in a specific product or service.
You can generate leads organically and/or by spending money, depending on your resources. Leads may come from various sources or activities, for example, digitally via the Internet, through personal referrals, through telephone calls either by the company or telemarketers, through advertisements, and events.
The respondents cited email as the most-used channel for generating leads, followed by content marketing, search engine, and finally events.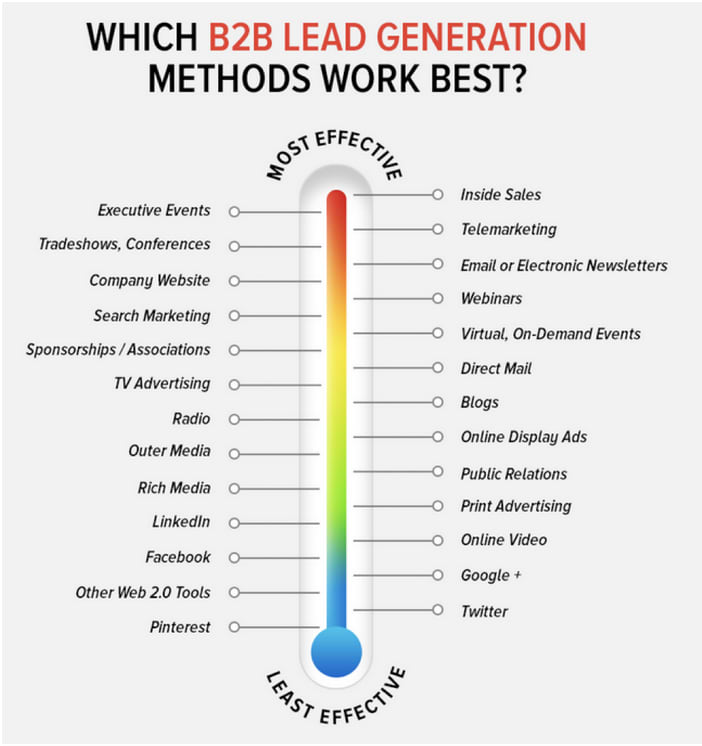 Lead Scoring or Grading
Lead scoring is a way to qualify leads quantitatively.
Using this technique, leads are assigned a numerical value or score to determine where they fall on the scale from 'interested' to 'ready for a sale'.
Lead Generation Research
Marketing departments these days are allocating more budget to lead generation tactics. Companies are finding more creative ways to break through the noise and reach the customer through lead generation research.
We Assist You With Online Lead Generation
Online lead generation is an Internet marketing term that refers to the generation of prospective consumer interest or inquiry into a business's products or services through the Internet such as by using Social Media, Email Marketing, Display Advertising, etc.
Key Ways To Generate Sales Leads Online
Content marketing
Create and distribute content with a primary focus on education, not selling. Content can be produced in various formats—blogs, infographics, videos, case studies, white papers.
Social Media
Depending on your business, every social media platform can be a precious lead generation channel. Facebook, Twitter, Instagram, and Snapchat are essential for B2C; LinkedIn is elementary for B2B.
Email
With email, you get to initiate a one-to-one conversation with your recipient, while sharing a blog, inviting them for a webinar, informing them about a product update, or offering a discount.
Webinars
Webinars require people to share their email ID, which makes it an ideal lead gen activity. Timely webinars, with relevant topics and quality speakers, can build a brand around your business.
PPC (pay-per-click) Ads
Clicking on a PPC ad takes the visitor to a landing page, which collects the lead's information. PPC ads work because they contain keywords relevant to your audience, plus they appear on page one of Google.
Display Ads
Also called banner ads, display ads are like print ads for digital. Crisp copy, a persuasive CTA (call-to-action), illustrations and animation are effective elements in display ads.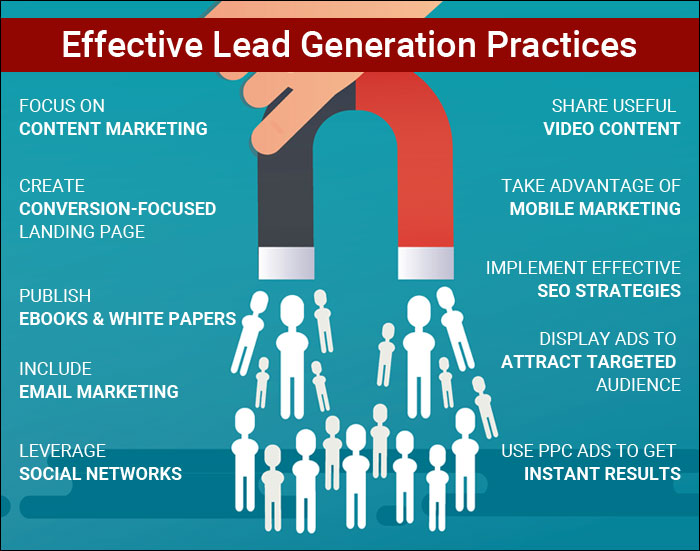 We Also Assist You In Offline Lead Generation
We help you with your lead generation efforts by providing quality leads such that your sales team is able to move fast through the sales process towards a sales closure. Apart from the online lead generation we also engage in telemarketing to generate leads.
Lead Generation Channel Map