Read Time:
5
minutes
Are you a blogger looking to start off somewhere small? 
Here's Tumblr. Tumblr is one of the few popular blogging platforms, known to give a voice to writers from different genres. 
People find the platform useful for a number of reasons. Some explore their talent and love for writing on Tumblr while some use it to build portfolios or even scrapbooks.
For beginners, setting up a profile on the platform can look quite intimidating and oftentimes, confusing with the different sections like dashboard, customization, re-blogging, etc. 
So let's take a look at what Tumblr really is all about and how you could grow your skills on the platform.
What is Tumblr?
Tumblr is a microblogging and a social media platform according to BigCommerce which enables people to use the platform for publishing short blogs. As of 2021, Tumblr had about 327 million unique visitors on the website. 
While the majority of the traffic is from the US, the platform is also popular in the UK, Canada and Australia. 
As opposed to the other social media and blogging platforms, Tumblr doesn't have very strict rules for users to follow and hence, content on the platform is not very highly regulated.
This is beneficial as it gives people enough creative freedom. Tumblr as commonly understood, is like a mashup of Twitter, Facebook and WordPress. You can post text, audio, video and links. 
The platform can be used for multiple purposes and as such ecommerce stores too can be opened on Tumblr. The overall flexibility of Tumblr is what attracts most ecommerce owners to the platform.
Tumblr is especially suitable for those ecommerce stores that want their account to look a certain way or who want to highlight their brand's voice in it's full potential. 
With the social media aspects available on Tumblr, content is easily created or curated, posted and shared among relevant audiences. Hence, Tumblr can greatly increase exposure for the ecommerce brands too.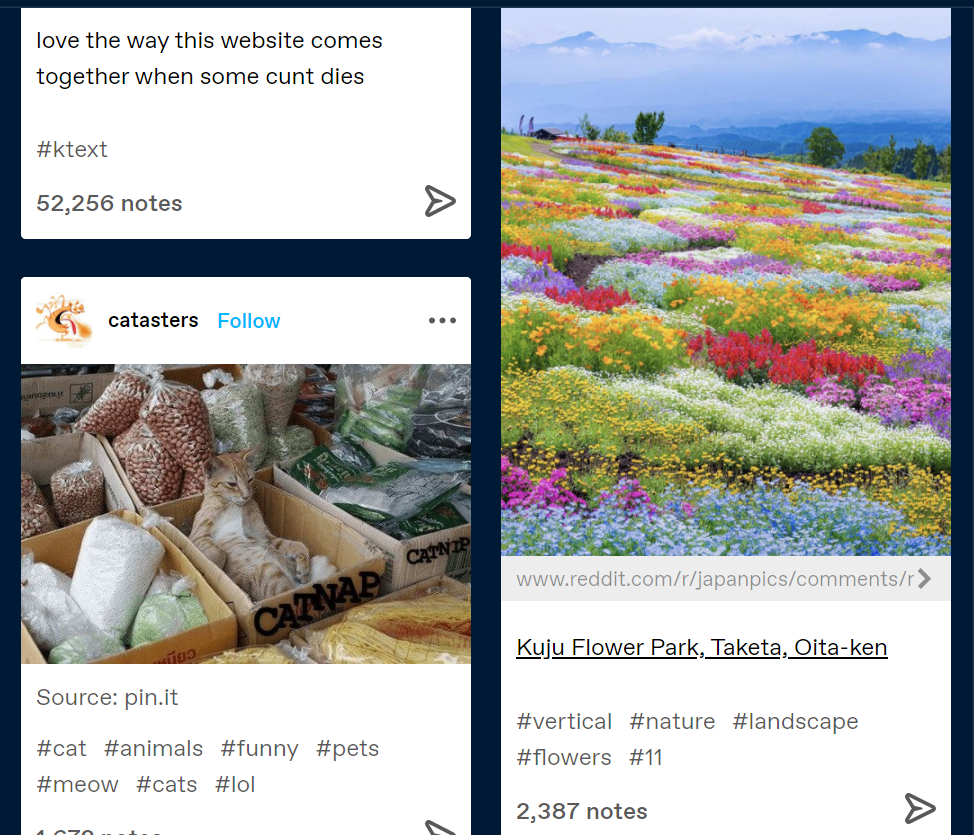 Tumblr is widely used. By the end of 2020, Tumblr had hosted almost 6 million blogs. Yes, that's a lot of users on the platform. Plus, according to Tumblr, 14.2 million posts are being published every single day. 
So in all honesty, these numbers do indicate that Tumblr is a trustworthy platform for your content. 
Before you go ahead and create a Tumblr account for yourself, make sure to settle on what you want to do and achieve on the platform. There are essentially two types of blogging that can be done on Tumblr.
The first is creation of original content where articles about education to travel to anything in between, all kinds of content can be done by you. 
The second is curation where you draw inspiration from other people's work to write your own blog. Eg. 5 easy breakfast recipes by fellow creators. 
Once you are settled on what it is that you want to achieve on the platform, you can go ahead and get creating. 
How to best use Tumblr?
Opening your own Tumblr account can be very intimidating especially if you're not very familiar with the platform. To assist, here are some simple steps for you to follow:
Set up the basics
To set up your account on Tumblr, all you need is your email, password and username.
Don't panic, if you haven't settled on an username yet, jot down a list of usernames that best communicate the objective or theme of your blog.
Check for the availability of the usernames and then finalize on one. This username will also be displayed in the link to your Tumblr blog. 
If you still feel unsure about your username, you can always choose a temporary username and then change it once you find and finalize the username that best fits your requirements. 
Pick your interests
Interests on Tumblr basically displays the content that's most relevant to your tastes. So pick your interests wisely. You need to select at least 5 topics.
Once you select your interests, a list of blogs will be generated basis your interests, which you can then follow. The feeds of these blogs will then show up on your Dashboard. 
Your Tumblr dashboard
You need to get familiar with Tumblr's dashboard if you're going to use it.
On the Tumblr Dashboard you can create and make posts, customize them, reblog other creator's content and discover more stuffs from your (constantly changing) interests.
The Tumblr dashboard is super user-friendly and easy to navigate. The dashboard appears on the home screen and the feed looks similar to that of Facebook. 
Through your Tumblr dashboard you can also choose the theme that you would like to use on your Tumblr handle.
Posting on Tumblr
Here's how you can navigate your dashboard as you post. Look at the top bar besides your profile picture.
There the types of posts that you can do are split into the different categories of Text, Photo, Quote, Link, Chat, Audio and Video. 
To navigate further, you can use the menu which will direct you to the home feed, to the direct messages, to settings and to your personal activity. 
Exploring new content
If you're someone who likes to explore new content, Radar would be your go to place on Tumblr. The editorial staff at Tumblr manage this part of Tumblr and Radar promotes and suggests noteworthy content to the users.
Additionally, Tumblr is not only for self engagement but also to connect to other like minded individuals. If you have integrated your Tumblr with Facebook and Gmail, you'll also find people from your friends list on the platform. 
If you want to reach out to someone privately, click on the envelope icon that is at the top right corner. This will enable you to send a message. 
Moreover, you can also enable the "Ask me anything" feature on Tumblr through which other users can ask you questions on the platform. 
Tumblr has a number of tags through which you can view separate posts based on your interests. This can be achieved through the "Explore" feature. 
If you're putting your content out there, they might as well get discovered, right? That is where the "hashtags" come into play.
Hashtagging will get you the relevant audience that's interested in what you're writing and posting. Also, you can be easily discovered and found using hashtags.
Unlike the other social media platforms, the hashtags on Tumblr must be broad enough, as that can help your content to remain discoverable.
To get familiarized in the use of hashtags, you'll have to spend some time researching through the feed, the hashtags and the entire platform as such.
Also, make sure that you're not using too many hashtags in the post as that too will dilute your content within the feed.
Hashtags will help your account stay organized and also increase the chances of people visiting your posts as your posts will now be thematic.
Customize your design
Are you clear and sorted about how your Tumblr handle should look like? Then that's great, because on Tumblr, you can do all the personalization you want.
The choices that the users have are usually between a custom theme and a premium one. 
Premium is a paid option with more customization features. It's best suited for those who are specific about their personalization goals and don't mind paying for it.
If you don't want to pay for a premium theme, don't get bogged down because the free customization options are great too. 
To change your theme, go to your Username. There you will see "Untitled". If you move your cursor there, you will get an option to "Edit Appearance."
When you click on that, you'll be taken to the different themes available. (Right at the beginning, your default theme is plain and simple and doesn't have much of anything.)
Once you select the theme you like, click on Preview. Previewing gives you an option to know what your profile will look like before you go ahead and finalize on it. When you are settled on a theme, click Install. 
A pro tip here : If you're planning on having a photo heavy blog, then choose a theme that has a grid style. Where as, if you're planning on doing a lot of writing, then select a one or two column theme.
All these available themes are created by bloggers as well as by Tumblr. In case you want to edit your theme even in the future too, you can always come back and do so. 
Stay active
Now for people to recognise you, like any other social media platform, you need to stay active on Tumblr. So post and update your blog regularly. You can also do some re-blogging.
It's also recommended that you comment, engage and interact with other users so that they are familiar with your work.
As you go ahead and like and engage with other people's work, all of these actions contribute to building a community around you. 
Moreover, make it a point to put in a good amount of research into your blog.
You can do this by taking a look at and by digging into some similar themed blogs. One easy way to do that is by checking the "Recommended for you" section.
Through this you may very well also come across some similar content on Tumblr.
Conclusion
In short, Tumblr is a great microblogging platform for you to start off with your blogging skills.
Most users on the platform do encourage their fellow bloggers and moreover, you'll also be exposed to some great creative content out there. 
Additionally, although Tumblr is best for niche content, it will continue to exist and grow as it is used by quite many people worldwide. Moreover, blogging will always remain in trend due to the value it adds to content marketing. 
Thus if you want to go that extra mile in building your brand in the industry, take advantage of Tumblr.